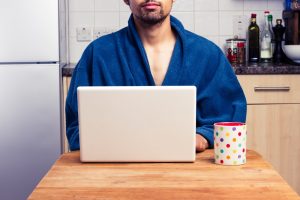 In my guest post for the awesome J. Money at Budgets are Sexy I listed the ten things I didn't expect in retirement.
#5 was "I've gotten very comfortable wearing casual clothes." Here's what I said on that subject:
I'm not going to say I have always been an uptight dresser. Let's just say I was always dressed for the occasion. I like to look nice and professional whether at work, church, or even out shopping. I'm not wearing $1,000 suits by any means, but I like to be dressed "nicely" wherever I go.
Cue the workout pants. You know, the baggy, comfortable ones similar to what basketball players wear during warm-ups? They refresh my soul.
It took me about three days to go from button-down Bob to casual Clyde.
Do you know how comfortable workout pants are? Answer: VERY comfortable. These are for colder temperatures. Do you know how comfortable shorts are? Answer: VERY comfortable. These are for warmer temperatures.
Both are accompanied by a t-shirt and/or a Columbia thin pullover depending on the temperature.
These are now my clothing wear of choice. I haven't donned even a pair of Dockers more than twice in eight months (I did wear a pair to a funeral, however). I've gotten to the point where even putting on jeans feels like I'm "dressing up". And they just aren't as comfortable as I like.
We even joke at my non-profit board meetings that I dress up for them by wearing my "nice" workout pants or shorts.
But what do I care? I don't have anyone to impress.
Consider Steve Jobs, Mark Zuckerberg, and the like. No dressing up there. They don't (didn't in Jobs' case) care what they are wearing, they just want to be comfortable. And while I don't have billions like they do, I am financially independent and can wear whatever I want.
Much different than my pre-retirement days…
As time has passed since I wrote that I have become even more enamored with casual clothes. And a couple experiences recently reinforced that. I'd like to share them with you.
Jimmy over Warren
My wife, daughter, and I were taking one of our last walks before my daughter went off to college.
Somehow the subject of "dressing up" came up. I think it was because I was going to meet some of the administrators at her college and wondered aloud if they would care if I wore shorts and a t-shirt.
Not too far into the conversation I blurted out:
"When it comes to dressing up, I'm more Jimmy Buffett than Warren Buffett."
My wife and daughter groaned a bit, but I thought it was clever. I amuse myself sometimes. 🙂
My wife didn't take too long in replying:
"When it comes to money, I think you're more Warren Buffett than Jimmy Buffett."
🙂
Actually, Jimmy Buffett has done quite well for himself. But I think we can all agree that Warren has done at least a smidge better.
Anyway, it surprised me how easily and naturally I voiced this thought. It came out so quickly because it's true — I like to be comfortable these days and to me casual clothes are part of that.
As we finished the conversation the consensus was that the administrators wouldn't care what I wore and if they did, who cared anyway. So a few weeks later I wore shorts and a t-shirt and things were fine. And I was very comfortable.
Award Ceremony
In September I attended another college homecoming. My best buddies were going and our fraternity was celebrating its 150th anniversary, so I headed back.
One of my friends was being honored as a distinguished alumni. Since he was going to be tied up with various activities, I wasn't going to have much time with him.
I called him a couple months before the event and we discussed when we could get together.
He suggested, "You could attend the ceremony where they formally recognize me as a distinguished alumni."
My first thought was: "Ugh. I'm going to have to dress up for this thing."
I replied, "What are you going to wear?"
He said, "I'll probably wear something nice since it's a ceremony and I'm being honored."
I was dying inside. Could I survive a sportcoat, slacks, uncomfortable shoes, and tie?
I asked, "If I come, do you think I should dress up too or should I simply come in casual clothes like I'm retired and don't care what others think of me."
He said, "You can do what you want, but if it was me I'd come like I'm retired and don't care what others think of me." 🙂
So that's what I did.
The ceremony was great, I got to celebrate with my friend, and I was comfortable. A side benefit was that I looked like I had no money so the college's development officer left me alone.
Ode to Sweatpants
I can't remember the last time I wore even jeans — they are just too dressy (and uncomfortable) for me.
In the summer, it's shorts and a t-shirt.
In the winter, sweatpants (though they are the "nice" ones) and a long-sleeved shirt.
If I have to wear something else, there better be a good reason for it.
I know, it's not a big thing. But it is one of the small, awesome perks of retirement that many people don't consider.
So take some time and imagine what your life would be like dressing comfortably all the time. Pretty cool, right?
And stay tuned. I'm only a year into retirement at this point. By the end of year two I may never get out of my PJs! 🙂
---
Originally posted at https://esimoney.com/one-great-retirement-perk-dressing-casually/