Two years ago this week, I retired. 
When I was in my final few years of work I had an obsessive curiosity about what retirement was going to be like, and now I know.  I suspect many of you have a similar curiosity, and this post is for you.
For those of you who haven't yet retired, you're probably curious about what retirement is really like.
For those of you who have retired, you're perhaps curious if your retirement is similar to that of others.
For the benefit of both camps, I've been capturing my thoughts at various stages in my retirement journey as a "reality series", with the hope that you can benefit from my experience.
Today's post continues The Retirement Reality Series and checks in on the journey at the "two years of retirement" milestone.
The Retirement Reality Series:
Two years ago this week, I retired. Today's update in The Retirement Reality Series shares what I've learned from two years of retirement. Click To Tweet
---
Where do I start…
Staring at this blank screen, wondering where I go from here.  There are so many thoughts in my head.  What matters, and what doesn't?  What do you care about?  What have I learned from two years of retirement?  I'm seeking that "flow" that I love when I get deeply into writing and am going to let my mind wander to see what develops.  With that, here we go…
---
First, Retirement is Fluid.  Unlike your working career where life is structured by a predictable routine, retirement is different.  Retirement changes as the days go by, and it's best to embrace the fluidity.  Go with the flow, listen to your mind, and follow your instincts.  What you experience in the first 6 months is not what your retirement will be.  Those first 6 months are the honeymoon, and it's a blast.  Go with that flow, but realize the river changes as it moves downstream
Retirement is like a river. The current changes as you move downstream. Embrace the fluidity, and learn to adjust to the flow. Click To Tweet
If the first 6 months are exciting rapids, expect some slower and calmer water ahead.  By the time you hit two years of retirement, the water runs a bit deeper, calmer. It's a relaxing voyage, and whether I paddle or drift is entirely up to me.  Either way, I continue to move downstream.  Occasionally you may hit an eddy current, and feel a bit adrift.  Paddle through it, there's better water ahead.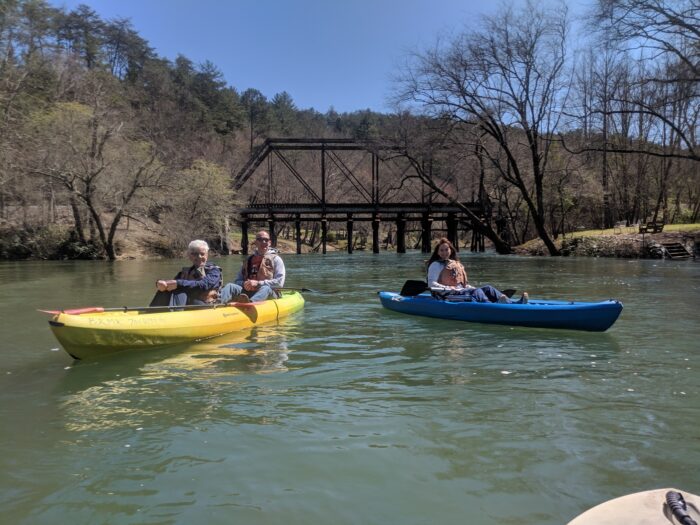 ---
Retirement is Unstructured.  Similar, but different, to the first point, there's a lot less structure in life once you reach retirement.  For some, that's a struggle.  After years of having structure imposed on our lives, it takes some adjustment to live a life with less structure.  Personally, I love the freedom that comes with shedding externally imposed structure.  After two years of retirement, I've also found that a bit of self-imposed structure smooths the journey for me.  Adding some structure in the morning by taking classes at the gym makes me feel better about my day, so I do it.  Play around with how much structure "works" for you, and realize your schedule is something you now control.  If something isn't working, stop doing it.  Change it up.  Add some structure, or take some away.  Freedom is liberating, use it to your advantage.
---
Change is Constant.  This is true throughout life, and don't expect it to change when you retire.  COVID-19 is only one (big) example, but there are many things that continue to evolve.  The stock market will always gyrate.  Friends will get serious illnesses.  An offer to write a book may suddenly appear.  Your trip to Seattle to visit your daughter may get canceled when the airlines shut down.  Change continues, even at the two years of retirement mark.  It likely always will.
Don't stress about change.  Embrace it. Exercise your freedom, and adapt to the changes without complaint.  Keep a positive attitude, which leads me to…
---
Attitude Is Everything.  A few months before I retired, I wrote the Ten Commandments of Retirement. I strongly encourage you to do the same.  I made Commandment #1 "Have An Attitude of Gratitude", and it's served me well in these first two years of retirement.  If I find myself getting negative about something, I nip it in the bud.  Our attitude dictates our experience in so many things, so be intentional in pursuing a positive attitude.  You've reached Financial Independence, so be grateful and look for the things that keep your glass half full.  Don't focus on the negatives, but rather, practice the purge.  Like so many things in retirement, your mental outlook is entirely within your control.  Take advantage of that reality, and choose to be content and grateful.
---
Things That Matter, Matter.  What you do with your time is now entirely up to you.  I've found that committing my time to things that matter brings a greater sense of satisfaction at days' end. 
Focus on doing more things for others, and fewer things for self.  Click To Tweet
Retirement is a time to give back, and finding Purpose by doing things that benefit others will likely be the most rewarding use of your time.  Find ways to get involved, and choose to connect with people who have a generous attitude.  Never stop learning, and challenge yourself to continually learn new things.  At the two years of retirement milestone, I find myself accelerating my efforts to help others.  I hope that trend continues.
---
Slowing Down Is Good.  Recently, my wife and I were out picking up a donated dog house for her charity, Freedom For Fido. We saw a sign for an estate sale while en route, and decided to stop for a look.  We didn't buy anything but ended up having a wonderful and relaxed chat with the homeowner.  Unexpected conversations with strangers make life better.  Life shouldn't be lived in a hurry, and retirement affords us the chance to slow down.  It doesn't happen automatically, sometimes you have to be intentional and take the long way home.
A Bucket List is Worthwhile.  Having some goals for exciting things in life is important in retirement.  After years of being chained to your desk, the chain is broken.  You're free to go.  So…Go!
In my first few months of retirement, we took a 7,000-mile cross-country train trip.  It had been a dream for years, so we made it a reality.  We booked it before I retired and it gave us something "big" to look forward to in our first few months of retirement. The following summer, we took three months to travel 10,000 miles around the country in our RV.  The invisible enemy has made this year a bit more challenging, so we're planning on a one month trip to visit family in Michigan.  We're shooting for August to escape the Georiga heat.
Don't limit your bucket list to travel.  As I wrote in What's In Your Bucket, it's best to expand your list.  We've developed ideas for all of the "spokes in our wheel", including personal development, spirituality, charity work, and relationships. 
Have goals for your life in retirement.  Life is better that way.
---
A Life of Fitness is a Life Well Lived.  Do you want to know the secret to the fountain of youth?  Get involved with the Younger Next Year crowd! Fitness matters and retirement is the ideal time to make it happen.  We've only got a certain number of years left, so it's in our best interest to make those years last.  Keeping fit enables you to enjoy the activities you want to enjoy well into your 70's (80's?), so why not invest some energy in this fountain of youth?  You've got the time, and the benefits far outweigh the cost.  Get involved in your local gym, join a hiking club, get on your bike and ride.  You'll make some new friends, feel great about yourself, and add years of healthy living to your retirement.
Life Is Best Lived Outside.  After spending 3 decades locked away in cubicle hell, it's time to break down those walls.  I've spent more time outside in my first two years of retirement than in my past 30 years of work, and it's made my life better.  I get outside every day, starting with a 1.5-mile hike with our 4 dogs on the trail behind our cabin.  I finish my days the same way.  3 miles, every day.  And that's just for starters.  From mountain biking to hiking to fishing to camping to running to kayaking to doing landscaping projects, life is best when it's lived out of doors. 
Get off the couch.  It's time to Live!
Family Matters.  Too often in our working years, we're forced to miss important family events.  In retirement, it's time to make family a priority.  I'm fortunate that my Dad is still living, but I realize that won't last forever.  Now that I have the time, I make it a priority to drive the 12 hours up to Michigan as often as possible to visit.   Sure, it's a bit of a drive.  But, I have the time and my Dad is worth it.  The same goes for our daughter's family in the Seattle area.  Come on, it's not that big of a deal to jump on a plane, rent an AirBnB for a few weeks, and cherish the special moments with our granddaughter.  Family matters and retirement is the time to make those special moments with your family happen. 
Live a life of no regrets.
It's Time To Try New Things.  Have you ever flown in an ultralight aircraft?  Neither had I, until last November (that's me, up above, in the "back" seat).  Cool, right?  I've gotta say, THAT was an experience I'll remember forever.  Especially the part where we swooped down close over that lake in the woods.  Dang, that guy could FLY!
What are you curious about trying?  What's holding you back?  Retirement is the time to try new things, and the only limit is your imagination (and, perhaps, your risk tolerance).  Go ahead, push that envelope.  You're free from that working grind, so put on some training wheels and take a spin in any area that interests you. 
Work is boring, retirement is the time to add some excitement to your life.
---
Celebrate The "Wins"
The "wins" in retirement are different than the "wins" you celebrated while working.  Those days of seeking a promotion are behind you, and you'll never again make that killer presentation to the CEO.  Life moves on, and that's a good thing.  Retirement is the time to find new ways to motivate yourself, to seek achievements that matter to you.  You're the boss now, you set the agenda.  You determine how you celebrate when you get the "win".  Have some fun with it.
You've earned that right.
If you love writing, celebrate the win when your book hits #1 on Amazon!  In my case, I bought an old military jeep as my way of celebrating that one.  Surprise!  I hadn't told you about that one, had I?  Well, the cat's out of the bag now, so here you go:
If you've read my book, you'll relate to the Jeep.  It fits with what I wrote on page 104 about choosing what vehicle you'd like to be when you "re-tire".  In fact, I even mentioned that I'd go with a Jeep, "the best option to roam the mountains around our retirement cabin."  Somehow, buying that old Jeep just seemed to be the right way to celebrate the milestone of publishing my first book.  Besides, I've dreamed about owning an old Jeep for years. Foreshadowing? Perhaps.
Celebrating a win?  Absolutely.
Savor the wins. 
---
Conclusion
Two years of retirement.  Dang, that went fast.
I didn't know where I was going to go when I started writing this post.  That's fairly common for me, actually, and it's one of the reasons I enjoy writing.  In addition to the learnings cited above, I'll close by saying that the first two years of retirement have taught me that I love to write.  There's something stimulating about sitting down at this keyboard and setting my mind free.
I am a writer.
I thank you for continuing to read my words.
Your Turn:  If you've retired, what have you learned?  If you're still working, what excites you most about retirement?  Let's chat…
---
Originally posted at https://www.theretirementmanifesto.com/what-ive-learned-from-two-years-of-retirement/