Disclosure: This post contains affiliate links and we may receive a commission (at no extra cost to you) if you sign up or purchase products or services mentioned.

In my quest to find the best source of advice for a successful retirement, I just found what may be the best source available to all of us.  I hadn't planned on writing this post today, but I realized I had no choice.  This source must be shared with all of you.
I found it by accident.   
Before I reveal this wonderful new source, I'll drop a few hints.  See if you can figure it out.
This source isn't available anywhere else but here. 
I wish I could copyright it, but I can't.  I wouldn't.  It deserves to be free.
This source represents thousands of years of retirement.
This source is multi-faceted and represents a broad mix of experiences.
This source continues to grow.
This source is powerful.
Any ideas?  Read on, and I'll reveal the source for advice for a successful retirement that may have just become my favorite…
I just found a new source for wise advice for retirement. It is, perhaps, the best source I've ever found. I'm revealing it today. Click To Tweet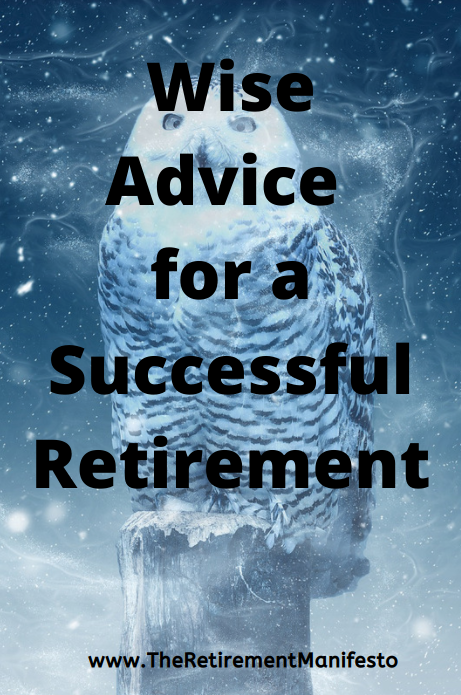 Finding this new powerful new source of advice for a successful retirement started two weeks ago when I was struggling with a minor dilemma.  As soon as I reveal the dilemma, you'll figure out this mysterious new source.
What was the dilemma?  
I was trying to figure out how to give away my new book (affiliate link).  I had a few thoughts on how best to do it and had to finalize the approach. I had whittled the options down to the following three choices:
Should I ask you to share a post?  No, that seems too greedy on my part.  Though, I do encourage all of you to share me with your friends.  Please?  (Hint..hint).
Should I ask you to respond to my subscriber's e-mail?  No, I did that recently and I still haven't gotten through all of those emails.  I wanted a better way to capture your responses, a place where all could see.  
Should I ask you to answer a question in the comments?
As you know, I chose the third.  The first dilemma solved, I now faced a second.  What question should I ask you?  That one was easier to solve.  Since my book was titled Keys to a Successful Retirement (affiliate link), and none of you had been able to read it yet, the question seemed obvious:
---
"What do you think is the most important key to a successful retirement?"
---
You're a smart bunch, and when I asked for your advice for a successful retirement, I'd do well to listen to what you had to say.  I'm glad I listened.  In the process of reading through your 351 responses to that question, I discovered the best source for advice for a successful retirement I'd ever come across.
That source is you. 
You're over 6,000 people strong on The Retirement Manifesto e-mail subscriber list and growing quickly.  Many of you are retired, many of you are not.  Combined, you represent several thousand years of retirement experience.  What an amazing resource. What if I could find a way to share several thousand years of experience, and compile the wisest advice for a successful retirement into one post to benefit the readers who have not yet retired?
With that thought, today's post was born.
Today I'm sharing the readers' advice for a successful retirement that most resonated with me. Click To Tweet
Before I share the wisdom from the readers, I'd like to thank all of you for your responses to that question, and for entering the book giveaway.  Congratulations to Paul, Cheryl and Daniel for winning the three copies of my new book, Keys to a Successful Retirement.  I hope you enjoy the read. 
(Also, a quick reminder for anyone who didn't win, you can order my book here  – Amazon Affiliate link)
---
Sharing The Wisest Advice For A Successful Retirement
I suspect few have taken the time to read through all 350 comments on the original post, so I've decided to share the advice for a successful retirement that most resonated with me.  Apologies to those not included below, it seemed a bit excessive to include you all.  Feel free to click back over to that original post and read them for yourself.  I think you'd enjoy the process.  I know I did. 
BTW, one person who DID read all 350 of those posts was Shannon, a reader of this blog who also writes at Retires Great.  He not only read them all, but he did some excellent analysis which he outlined in this post, along with some interesting graphics.  Shannon's been generous in allowing me to share one of his charts below. (I can't believe he categorized all 350 comments to create those graphs, he's got more patience than I do!)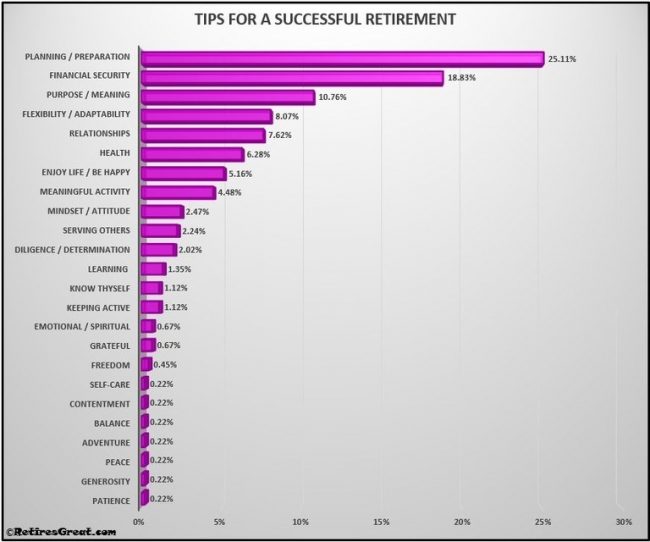 With that, below is some of the wisest advice for a successful retirement, direct from the readers of this blog.  I encourage you to read each bit of advice.  Savor the knowledge.  Learn from the experience of others.  Search for ways to apply this advice for a successful retirement to your own lives. Together, let's help each other Achieve a Great Retirement (my byline).
---
Reader Advice For A Successful Retirement
---
Be a Lifelong Learner. Suzette
---
"Don't be afraid to spend the money you have worked so hard to save. The point of an enjoyable retirement is to have fun and "enjoy" each and every day because we are not ever promised tomorrow."  Dale
---
A positive attitude.  Jay
---
After being home in "stay in place" order, I realize a game plan for what we will do with your time will be crucial. Stephanie
---
Know what title will be on your new 'retired' business card. Rob
---
While financial security is important; the most important factor is the mental adjustment. Going from being significant with your co-workers, community and other associates to becoming insignificant in their lives. Realizing your business friends etc were never really friends. Mike
---
Having the financial, mental, spiritual and physical health to live life to the fullest!  Jeff
---
I think the most important thing is lots of open communication with your spouse /partner ahead of time (if you have one). Talks about money of course, but also what you will do with your time, how household duties will be split in retirement, goals and travel plans, etc. Mary
---
A loving family, a worthy purpose and a deep contentment. Hari
---
I think a successful retirement involves thoughtful planning and having the right mindset. Understanding that being flexible is a good thing. Take time to "smell the coffee". Keep learning new things and help others when possible. Teach your kids and grandkids to do the right thing instead of the popular thing. Monty
---
I believe the key to a successful retirement is attitude, Fritz. You've got to be able to roll with the punches. Therese
---
The three legs of successful retirement…
-financial
-emotional/spiritual
-health 
planedoc
---
One thing that I have learned during this pandemic is that I need structure and discipline in my life and although I may be ready to retire from a financial aspect, I need a plan for what I am going to do to occupy my time and mind so that I am fulfilled.  Vivian
---
Realize the value of your time – you can always make more money, but you can't make more time. SkipL
---
The most important key to a successful retirement is flexibility – As Mike Tyson said, "everybody has a plan until you get punched in the mouth". Flexibility is the best way to adapt to the many punches in the mouth that live will give you over 30, 40 and 50 years of retirement.  Diego
---
The most important thing to prepare for retirement is "what am I going to do" in this next phase of my life. Retirement is not sitting around watching tv all day but having something meaningful to do that contributes to your family, yourself and others. Scott
---
I think the key to a successful retirement is to have a sense of purpose, something to wake up for each day. Linda
---
If you're fortunate enough to have a spouse, the most important key to a successful retirement is to remember that you're not in this alone. Address retirement as a team. Robert
---
I think the most important thing is to be grateful!  Jr.
---
Am I mentally ready for retirement? I am financially ready, now to get my mind set for it. RE
---
Without a doubt, good health. You can have unlimited assets, rewarding hobbies, a great circle of friends and family, faith in your God, etc. Without good health, how can you really enjoy any of those things? Pat
---
Plot your course. Review periodically for adjustments. Expect the unexpected. Enjoy! Louis
---
Engagement. Comes in many forms, but so important. Gary
---
Deciding what made us most happy and where we wanted to spend all the extra time after leaving the workforce. Tina
---
One key element is to build a social network outside your workplace well before retiring. David
---
Purpose and realization of what makes you happy. Karen
---
Prepare, prepare and prepare! If you are prepared financially, socially, spiritually, emotionally, etc. your retirement will work out just fine. Ralph
---
The most important key to a successful retirement is planning in partnership with your spouse. Roy
---
Leave no regrets.  Corey
---
Sharpen the saw, staying fit mentally, physically, emotionally, spiritually, and financially. Jay
---
A successful retirement needs to have a balance of good health, fulfilling hobby, and passive streams of income. Hahn
---
Keep learning…..trying new things!  Sherry
---
I never would have been able to make our retirement what we are experiencing now If I had not had a plan that was both long term and short term, with measurable goals along the way as well as a vision of what the final product was going to look like.  31NDUN
---
The most important thing in retirement is a need to care for others.  Johnny
---
Live within your means. Enjoy living, not buying. Stay the course. Tim
---
To be Positive, both in attitude and cash flow. Scott
---
In my opinion, a positive mindset and attitude is the bedrock to achieving success. Shannon
---
Knowing yourself — You can plan all you like, but if those planned items are not what make life rewarding, you are just alive, but not necessarily living.  Brad
---
Reading and applying daily the "Serenity Prayer" by Reinhold Niebuhr. Bob
---
Be happy with what you have, be happy with who you have to share your retirement with, and live each day being as happy as you can be. Life's too short to be miserable and unhappy. Mark
---
Serving Others.  Rick
---
Curiosity. Don
---
Conclusion
Wow, Right?!
I told you it was an excellent source to find wise advice for a successful retirement. I was also interested to see that 25% of the advice focused on planning and preparation (thanks for the analysis, Shannon).  It's almost as if you were reading my mind, as you'll see when you read my book (affiliate link). Thanks to all of you for entering the giveaway.  While only three readers benefited from winning the free book, all of us have gained value from the insightful wisdom shared in those comments.
For that, I thank each of you.
Your Turn:  What piece of advice most resonated with you from that (long) list, and why?
---
Originally posted at https://www.theretirementmanifesto.com/wise-advice-for-a-successful-retirement/