2,726 miles. 
In a hurry.
With a 2-year-old.
This is going to be fun.
My wife and I are doing a 2,726-mile Cannonball Run across the USA. With our two-year-old granddaughter. This is going to be fun! Click To Tweet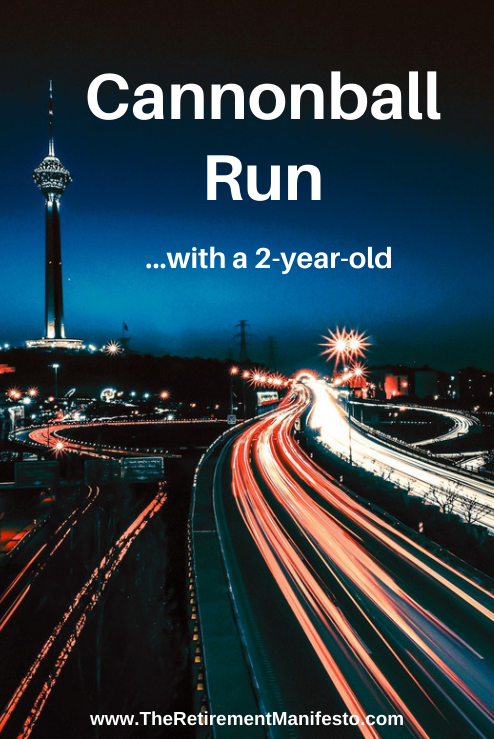 ---
If you're a Baby Boomer, you most likely remember the 1981 Burt Reynold's hit Cannonball Run.  If not, you can watch the entire movie below, on YouTube!
The comedy was based on an actual (and illegal) cross-country race and inspired the dreams of millions of teenagers, including this writer.  It didn't hurt that Farrah Fawcett was in the movie, but my dreams weren't focused (as much) on her as they were on driving fast.  There's something strangely appealing about the prospect of driving coast-to-coast as fast as humanly possible. 
I was 18-years old when Cannonball Run came out, and that dream of racing across the USA has never really died.
Well, that dream is finally becoming a reality.
Sort of.
I'm doing a Cannonball Run, but with a 2-year old.
Why We're Doing A Cannonball Run
Our daughter is moving closer! 
After 3 years in the Pacific Northwest, her military husband has new orders.  Fortunately for us, those orders will place him "just down the road" from us in Fort Rucker, Alabama!  His assignment near Seattle concludes on October 30th, and they have a new job to start in Alabama on November 10th.  They'd like to arrive as early as possible in November to close on their new home purchase and get settled before the new job begins.
Only one problem:
They have 2 Jeeps, 4 dogs, and a 2-year-old daughter.
Grandma & Grandpa to the rescue! 
We've agreed to help with the move and will be caring for their 2-year-old daughter during the Cannonball Run, freeing them up to take care of the dogs en route.  We're excited to be able to play a more active role in our granddaughter's childhood, and it starts now!
---

The Westbound Leg – A Life of Leisure
As you read these words, we'll be just a few hours from home (apologies in advance for being unable to reply to your comments, but rest assured I'll read every one).  We're launching our Westbound leg early Wednesday morning, with a leisurely and unstructured journey across the USA.  We're taking our time on the way out, Because We Can. 
We've charted a few destinations and will be spending time at our favorite places "Out West", including an October visit to Yellowstone National Park, when the crowds of summer will (hopefully) be gone.  We're also going to stay a few days at Custer State Park in South Dakota, as well as a visit to my Aunt and Uncle on their Idaho ranch.
Ah, the life of leisure.  Too bad it won't last.
The Cannonball Run awaits.
---
An Island In The Sound
During our 7,000-mile rail journey, we stayed for a week on Anderson Island and quickly fell in love.  It's a gorgeous island in Puget Sound, just off the coast from Steilacoom, WA.  A short ferry ride away from the hustle and bustle of the Seattle/Tacoma metropolitan area, it will be our sanctuary as we prepare for our Eastbound Cannonball Run.  It's also a beautiful ferry ride over to our daughter's home at Joint Base Lewis McChord. 
We've booked a nice home on the island through AirBnB, and are looking forward to spending some time in one of our favorite places on earth during our final visit with our daughter in the Pacific Northwest.
---
The Cannonball Run
On the morning of October 30th, we'll grab an early ferry off the island, swing by our daughter's house, lock our 2-year-old granddaughter into her car seat, and head East.  A few hours later, after our son-in-law gets his military checkout inspection finalized, they'll follow along behind in their 2 Jeeps with their 4 dogs. 
The Cannonball Run begins.
For the next few days, our Subaru Outback will be flying East.  No hotels booked, no planned itinerary.
Just miles and miles, as fast as we can cover them.
We'll go as far as our endurance (and precious 2-year-old cargo) allows, then scout out "dog-friendly" hotels, preferably with an indoor pool.  We'll get the two rooms booked, then let our granddaughter jump into the pool to burn off some energy until her parents catch up.
Repeat.  Repeat. Repeat.
How long will it take?  We haven't a clue.  Doing simple math:
2,726 miles/4 Days = 681 miles/day  (seems a bit optimistic, but possible)
2,726 miles/5 Days = 545 miles/day  (dang, 5 days of > 500 miles sounds tiring)
2,726 miles/6 Days = 454 miles/day  (still seems tough, but we've got to beat 6 days)
Yep, it's going to be a marathon.
But, Wow, what an experience!
---
My Second Sabbatical of 2020
As you'll recall, I took a month off during our Great Escape RV trip across Michigan's Upper Penisula. Given the intensity of our Cannonball Run, I'm planning on doing the same for the next month.  I'll miss you all, and trust you understand.  Priorities, right?
If you're interested in following along on our journey, you can join me via the following Social Media platforms.  
Instagram:  My "go-to" site for posting scenic shots throughout our journey. 
Facebook:  I'll post from time to time during our journey, along with some of the best photos.
Twitter:  Join along with my 10k followers to get some quick throughs from the road.
If you'd rather wait for my blog posts, no worries.  I'll be back on the keyboard in mid-November, recovering from the marathon at the new World HQ of The Retirement Manifesto's Treehouse Writing Studio.
---
Conclusion
2,726 miles. 
In a hurry.
With a 2-year-old.
This is going to be fun.